SWITCHES
OUR COMPANY HAS A DREAM AND VISION OF ALL IP CONVERGENCE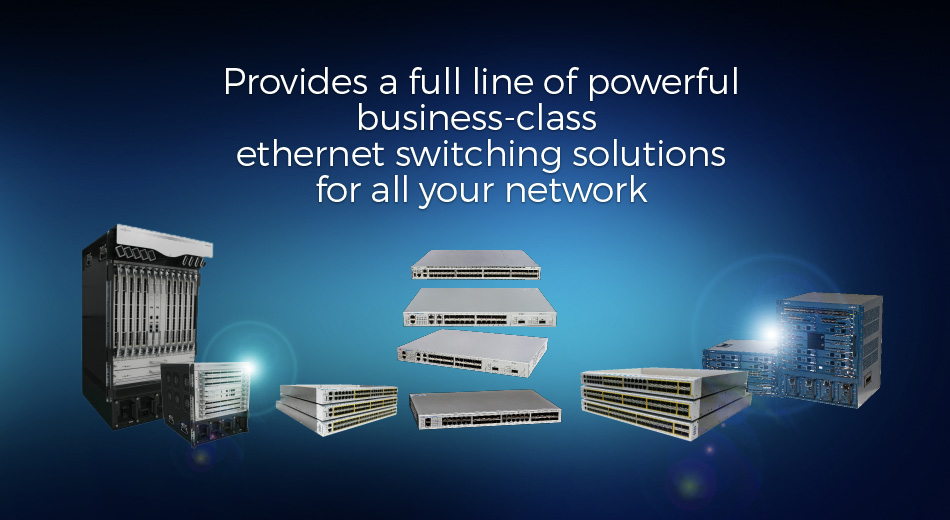 A switch is a device in a computer network that electrically and logically connects together other devices. Multiple data cables are plugged into a switch to enable communication between different networked devices. Switches manage the flow of data across a network by transmitting a received message only to the one or more devices for which the message was intended. Each networked device connected to a switch can be identified using a MAC address, allowing the switch to regulate the flow of traffic. This maximizes the security and efficiency of the network.
Essentially, when replacing a repeater hub with an Ethernet switch, the single large collision domain is split up into smaller ones, reducing the probability and scope of collisions and, as a result, increasing the potential throughput. Because broadcasts are still being forwarded to all connected devices, the newly formed network segment continues to be a broadcast domain.

Due to these features, a switch may be seen as more "intelligent" than a repeater hub, which simply retransmits messages out of every port of the hub but the receiving one, unable to distinguish different recipients, and greatly degrading the overall efficiency of the network.
ubiQuoss provides a full line of powerful, business-class ethernet switching solutions for all your network needs. Perfect for SMB and multi-site enterprise networks, ubiQuoss Ethernet Switches address today's highest networking priorities from bandwidth expansion and VoIP migration, to network security. Choose from managed Core/edge, Aggregation, Access Switch product lines. Our ethernet switches are differentiated by their security, ease-of-use, and management features like MAC-based port security and cable diagnostics.
Core/Edge Switches
Enterprise IT managers have limited time or resources to deal with overly complex, specialized network infrastructure solutions. ubiQuoss Core/edge switches simplify the architecture. Purpose-built core, aggregation, edge and Data Center modules can meet your chassis needs across the network. Traditional three-tier architectures can be replaced with a streamlined two-tier network that reduces management overhead, operational complexity and capital expenditures.
ubiQuoss Core/edge switches deliver voice-class availability, Gigabit Ethernet, and 10 Gigabit Ethernet wherever it's needed. They serve well as a high-performance Enterprise core. The non-blocking ports interconnect thousands of servers for High Performance Cluster Computing (HPCC) and data center applications. A full range of Layers 2 - 4 features for IPv4 and IPv6 allow the aggregation of high-speed connections, eliminating bottlenecks between edge and core. ubiQuoss Core/edge switches fits well at the edge of the most demanding enterprises switching Voice-over-IP (VoIP), video, wireless and data traffic.
Aggregation Switches(Layer3)
Within the LAN environment, a Layer 3 aggregation switch makes intelligent switching decisions based on the Layer 3 source and destination addresses, similar to that of a router. A standard Layer 2 switch relies on the MAC addresses to make switching decision. The fundamental differences between the two, is that a Layer 3 aggregation switch offers more performance then that of a standard Layer 2 switch.
Our Layer 3 aggregation switches combine performance, reliability and security. These switches are perfect for Gigabit to the desktop applications or as an aggregator switch routing between VLANs, therefore segmenting data and voice and offering additional security.
Access Switches(Layer2)
ubiQuoss Access Switches includes full-featured, managed, Layer 2 and Fast Ethernet, Gigabit Ethernet, and Power over ethernet switches.
Fast Ethernet switch offers up to 24 ports, as well as Gigabit uplink ports while Gigabit Ethernet Switches provides affordable, higher capacity switching for Gigabit-to-the-desktop applications and PoE. The Gigabit Ethernet switch is available from 8 to 24 ports and features 1G or 10G uplink capabilities for both multi-floor and campus aggregation switching needs that demand multi-layer, wire-speed switching capacity.
Business-class features, flexible management, and a favorable price point set these switches apart from all other switches in their category.
Our solutions is perfect for Small- and Medium-sized Businesses (SMBs) or multi-site enterprise networks. These solutions address today's highest networking priorities, from bandwidth expansion to network security.
High density 10G Switch

Details
Overview
E6100 is a high density L3 switch having 48(Forty-eight) 10GBASE-R ports which is predictably cost effective. This pizza box type switch is designed to be placed in Telco's Central Office or IDC/CDC to aggregate and distribute high bandwidth data traffic.
E6100 has got all the essential features of ubiQuoss' layer 3 software packages that can be found among our high profile L3 switches whereas meeting the basic requirement like the system reliability and software upgradability.
To meet the performance goal we adopted the most advanced solution that is available. Besides based upon the compact design form factor, E6100 is operated with low power consumption and effective cooling airflow so that it can be suitably placed in packed environment.
Features of E6100
● Max 48 ports 10G/1G interface
● Selectable usage per port either 10G Base-R or 1000Base-X
● Dual AC/DC power
● 960 Gbps switching capacity
● Full wire speed throughput of 714Mpps
● Up to 32K MAC address support
● Up to 4K VLANs support
● SNMP v1/v2/v3, RMON and MIB
● IGMP snooping and 1K multicast group
● QoS support with 8 queues per port
● IPv6 and MPLS support
● Green IT technology
- reducing power consumption (153W)