SWITCHES
OUR COMPANY HAS A DREAM AND VISION OF ALL IP CONVERGENCE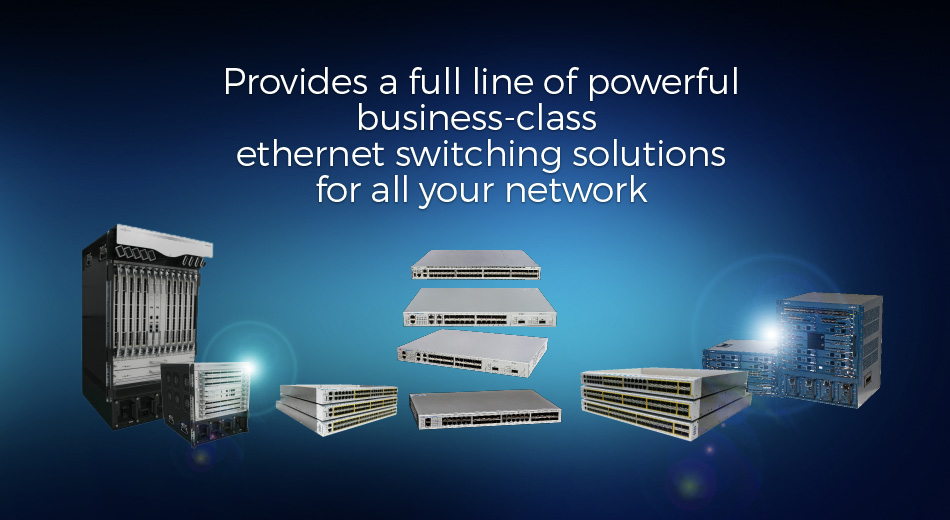 A switch is a device in a computer network that electrically and logically connects together other devices. Multiple data cables are plugged into a switch to enable communication between different networked devices. Switches manage the flow of data across a network by transmitting a received message only to the one or more devices for which the message was intended. Each networked device connected to a switch can be identified using a MAC address, allowing the switch to regulate the flow of traffic. This maximizes the security and efficiency of the network.
Essentially, when replacing a repeater hub with an Ethernet switch, the single large collision domain is split up into smaller ones, reducing the probability and scope of collisions and, as a result, increasing the potential throughput. Because broadcasts are still being forwarded to all connected devices, the newly formed network segment continues to be a broadcast domain.

Due to these features, a switch may be seen as more "intelligent" than a repeater hub, which simply retransmits messages out of every port of the hub but the receiving one, unable to distinguish different recipients, and greatly degrading the overall efficiency of the network.
ubiQuoss provides a full line of powerful, business-class ethernet switching solutions for all your network needs. Perfect for SMB and multi-site enterprise networks, ubiQuoss Ethernet Switches address today's highest networking priorities from bandwidth expansion and VoIP migration, to network security. Choose from managed Core/edge, Aggregation, Access Switch product lines. Our ethernet switches are differentiated by their security, ease-of-use, and management features like MAC-based port security and cable diagnostics.
Core/Edge Switches
Enterprise IT managers have limited time or resources to deal with overly complex, specialized network infrastructure solutions. ubiQuoss Core/edge switches simplify the architecture. Purpose-built core, aggregation, edge and Data Center modules can meet your chassis needs across the network. Traditional three-tier architectures can be replaced with a streamlined two-tier network that reduces management overhead, operational complexity and capital expenditures.
ubiQuoss Core/edge switches deliver voice-class availability, Gigabit Ethernet, and 10 Gigabit Ethernet wherever it's needed. They serve well as a high-performance Enterprise core. The non-blocking ports interconnect thousands of servers for High Performance Cluster Computing (HPCC) and data center applications. A full range of Layers 2 - 4 features for IPv4 and IPv6 allow the aggregation of high-speed connections, eliminating bottlenecks between edge and core. ubiQuoss Core/edge switches fits well at the edge of the most demanding enterprises switching Voice-over-IP (VoIP), video, wireless and data traffic.
Aggregation Switches(Layer3)
Within the LAN environment, a Layer 3 aggregation switch makes intelligent switching decisions based on the Layer 3 source and destination addresses, similar to that of a router. A standard Layer 2 switch relies on the MAC addresses to make switching decision. The fundamental differences between the two, is that a Layer 3 aggregation switch offers more performance then that of a standard Layer 2 switch.
Our Layer 3 aggregation switches combine performance, reliability and security. These switches are perfect for Gigabit to the desktop applications or as an aggregator switch routing between VLANs, therefore segmenting data and voice and offering additional security.
Access Switches(Layer2)
ubiQuoss Access Switches includes full-featured, managed, Layer 2 and Fast Ethernet, Gigabit Ethernet, and Power over ethernet switches.
Fast Ethernet switch offers up to 24 ports, as well as Gigabit uplink ports while Gigabit Ethernet Switches provides affordable, higher capacity switching for Gigabit-to-the-desktop applications and PoE. The Gigabit Ethernet switch is available from 8 to 24 ports and features 1G or 10G uplink capabilities for both multi-floor and campus aggregation switching needs that demand multi-layer, wire-speed switching capacity.
Business-class features, flexible management, and a favorable price point set these switches apart from all other switches in their category.
Our solutions is perfect for Small- and Medium-sized Businesses (SMBs) or multi-site enterprise networks. These solutions address today's highest networking priorities, from bandwidth expansion to network security.
High-capacity Backbone Switch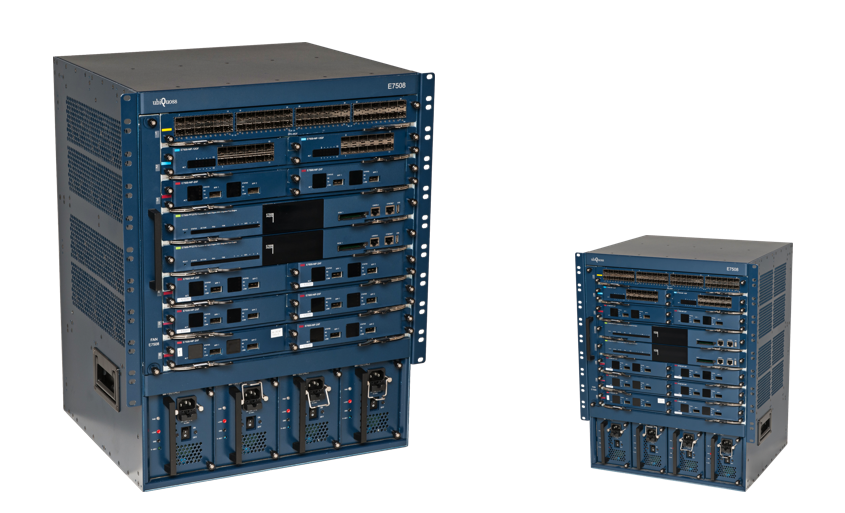 Details
Overview
E7508 is a high efficient multilayer switch that fulfills the HA (high availability) and resilience requirements expected from the enterprise network backbone or Telco's network edge equipment. As the customer demands arise you can equip the system with GE and 10GE interface modules in gradual fashion so that the system can provide 720Gbps of switching capacity and 428Mpps throughput.
The switching and control part and power supply modules in the system are redundantly constructed with active-standby structure, which are accompanied by virtualization technology.

As an Edge grade switching platform E7508 supports the latest versions of unicast and multicast routing protocols for effective interworking with other facing networks. And with the high density service interfaces of 144GE/288GE ports E7508 can be directly associated with public network or construct its own network by building up local loop.

In order to effectively process the various types of traffic which are generated from the different user segments E7508 has adopted sophisticated QoS technology and policy rules. These implementation along with Netflow monitoring tools which is enabled by using an independent NP (Network Processor) can achieve the best optimized traffic processing quality.
Features of E7508
● Modular basis high availability architecture
● Active/Stand-by redundancy
● Two Main control processor modules
● Hot swap support
● 'Install as you grow' interfaces
● Up to 24 *10Gigabit Ethernet ports
● Up to 144 * Gigabit Ethernet ports / 288 * Gigabit Ethernet ports
● Power redundancy supporting N+1 and N+N
● Switching capacity of 720Gbps
● Full wire speed throughput of 428Mpps​
​
[Flexible structure and operation]
● High level of service reliability and resiliency is achieved by introducing redundancy scheme to construct Control and Switching parts combined with combinational power backup configuration.
● Due to the scalable expansion with smaller module, which provides better granularity, as per the expensive interface slots, the initial CAPEX burden can be addressed.
● All the duplex modules in the system support Hot swapping which enables non-stop operation while replacing any faulty module for repair.
● IEEE 802.3ad LACP supports to overcome the limitation on the bandwidth in-between hosts and improve resilience as a whole.
● BFD (Bidirectional Forwarding Detection) detects quickly any faults between forwarding engines without affecting negatively upon system performance.
● VRRP (Virtual Router Redundancy Protocol) is adopted to achieve the improved system reliability. ​
[QoS]
● IEEE 802.1p based prioritization is implemented to process data traffic per its characteristics.
● CoS (Class of Service) classification which can be configured by administrator is available.
● 8 process queues are maintained per individual port, and the scheduling algorithms of SPQ, SDWRR, SPQ+SDWRR apply to each process queue.
● Secure Control Technology
● 256 flow classification to CPU, Traffic to CPU rate-limit, 8 CPU queue
● With respect to egress traffic, rate shaping function can be applied to either port or process queue by unit of 1Mbps while guaranteeing the minimum bandwidth.
● DSCP marking and remarking are enabled.
● Traffic Metering and Counting
- Single rate Three Color Marking(srTCM) and Two rate Three Color Marking (trTCM)
- Byte/Packet Counter
- QoS Remarking
- Ingress/Egress Metering and Counting​
[Layer 3 routing function]
● Static routing configurations for IPv4/v6 are available.
● RIPv1/RIPv2/RIPng, OSPFv2/OSPFv3, BGP4 protocols are available.
● By use of PBR function the effective routing per traffic characteristics and the load balancing per ECMP (up to 8 paths) can be executed.
● Multicast protocols like IGMPv2/v3 (Internet Group Management Protocol), IGMP snooping, PIM (Protocol Independent Multicast), MLDv1/v2(Multicast Listener Discovery), and MLD snooping are supported.
● LER functionality for L3VPN
- RFC 2547bis, L3VPN based on IP over MPLS tunnels
- IP BGP VPN, L3VPN based on IP in IP, IP over GRE tunnels
- IP Multicast VPN
● Multi-Protocol Label Switching
- Ingress/Egress LER
- Intermediate LSR, label swapping and MPLS proxy
- E-LSP, L-LSP forwarding and QoS assignment
- Fast Re-Route
​[Layer 2 switching function]
● IEEE 802.1q VLAN is available.
● Port mirroring function supports to provide the packet from any specific port to another specified port so as to analyze.
● Loop detection function is available.
● IEEE 802.1d Spanning Tree Protocol and 802.1w Rapid Spanning Tree Protocol and MSTP are used to re-construct the traffic path in case the path has got problem.
● To effectively control the flooding of multicast packets IGMP snooping function can be utilized. ​
[Security function]
● RADIUS and TACACS+ servers are available for remote authentication.
● The system can initially prevent harmful traffic by use of ACL (Access Control List):
- L2/L3/L4 and user define field lookup for IPv4/6
- Ingress PCL / Egress PCL
● The system supports Control Plane Policing functions against TCP SYN attack, packet with Illegal address and illegal L4 header (TCP flag zero, and TCP/UDP port zero.)​
[Management function]
● Both telnet and direct connection via console port are available for configuring operation environment.
● The protocols including SNMPv1/v2/v3(MIB I, II), CLI(Command Line Interface), and RMON (Remote Network Monitoring) for remote and local O&M activities are implemented.
● Automatic Shutdown function is activated in case any sub unit would be overheated and go beyond prearranged temperature limit.
● For better system operation NetFlow functionality is available for monitoring and sampling traffic which is implemented by adopting an NP solely for this purpose.​